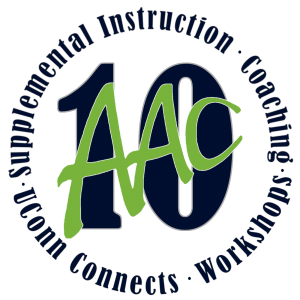 The Academic Achievement Center assists students in attaining their academic and personal goals by providing a comprehensive, personalized array of programs, resources, and services which enhance skill development, effective decision-making, and personal transitions to and within the university setting.
Professional staff are available by appointment. Please call or email to schedule an appointment. We are located in the John W. Rowe Center for Undergraduate Education (ROWE) Room 217.
Upcoming Workshops
Sep

23

Online Course Support

7:00pm

Monday, September 23rd, 2019

07:00 PM - 08:00 PM

Storrs Campus Rowe 217

Managing an online course can be challenging. We will provide steps to consider when taking an online course

Sep

24

Microsoft Excel Basics

4:00pm

Tuesday, September 24th, 2019

04:00 PM - 05:00 PM

Storrs Campus Rowe 217

Want to track your grades in your classes in one single place? Need Excel basics and want some assistance?

This is the place for you. Be sure to bring your laptop

Sep

25

Test Taking Strategies

7:00pm

Wednesday, September 25th, 2019

07:00 PM - 08:00 PM

Storrs Campus Rowe 217

Realize things to consider when preparing for an upcoming exam to then create a plan. Learn exam format tactics to best approach different types of test questions.