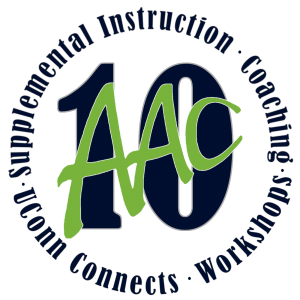 The Academic Achievement Center assists students in attaining their academic and personal goals by providing a comprehensive, personalized array of programs, resources, and services which enhance skill development, effective decision-making, and personal transitions to and within the university setting.
Professional staff are available by appointment. Please call or email to schedule an appointment. We are located in the John W. Rowe Center for Undergraduate Education (ROWE) Room 217.
Upcoming Workshops
Apr

1

Strategies for Deeper Learning Workshop AKA Study Skills Workshop

7:00pm

Wednesday, April 1st, 2020

07:00 PM - 08:00 PM

Storrs Campus Rowe 217

Have one go to study strategy? Want to add more techniques to your tool belt? This presentation will discuss methods to approach your coursework.

Apr

2

Talking to Professors Workshop

4:00pm

Thursday, April 2nd, 2020

04:00 PM - 05:00 PM

Storrs Campus Rowe 217

Do you know how to effectively communicate with your professors? Learn some strategies to improve your communication skills and what are the "right" questions to be ready for your exam.

Apr

8

Bouncing Back Workshop About Academic Resilience

7:00pm

Wednesday, April 8th, 2020

07:00 PM - 08:00 PM

Storrs Campus Rowe 217

Reflect on a prior failure or struggle, learn what to do when getting feedback, and apply new strategies when getting a critique.