Brittney Bernardi
Hi! My name is Brittney Bernardi. I am currently a senior and majoring in Psychology, while also minoring in Women, Gender and Sexualities Studies and Human Development and Family Studies. I first became acquainted with UConn Connects in the second semester of my freshman year, as a participant, due to my academic probationary status. I owe my subsequent academic improvement to both my mentor and UConn Connects. After some time, this experience led me to reconsider my career aspirations, and in the past year, I have decided I wish to go on to become an academic advisor, as I know how difficult college can be, especially when a student feels academically unsuccessful. After coming to this conclusion, I decided to join UConn Connects this past fall semester as a peer mentor, and loved the experience so much, I decided to continue in the spring, this time as an AAC coach. My involvement with the AAC has already been extremely rewarding, as I not only have learned valuable resources and tools that have helped my participants, but also ones that have helped myself. I can't wait to have more rewarding experiences this semester!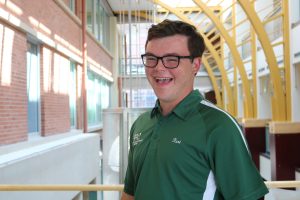 Kurt Daigle
Hey Everyone! My name is Kurt Daigle and I will be a Master Coach for the upcoming year! I am a junior studying Human Development & Family Studies. After my undergraduate career, I hope to get my masters in school counseling and become a high school guidance counselor. I am a huge supporter of the importance of First Year Programs, having worked with the AAC for the past two semesters, and by being a proud member of a Learning Community. I love the UConn Connects program because it gives me valuable experience in the field of academic  counseling, and also provides me the opportunity to work with students and help them succeed in their goals!
You'll often find me at UConn during the entire year! Storrs has become my favorite place on Earth, simply because when I am here, I feel at home. I owe it to my instructors, mentors, and the entire staff of First Year Programs, Learning Communities, and the Academic Achievement Center for helping me feel as if I am a belonging member of the UConn community. These programs have taught me about the importance of being connected to your campus community. I hope students will become involved, form meaningful relationships, and take advantage of the opportunities and resources that UConn has.
I am incredibly excited to begin working in this new role, and look forward to creating many positive relationships with both students and faculty.
"The woods are lonely dark and deep… But I have promises to keep… And many miles to go before I sleep… And miles to go before I sleep"
-Robert Frost

Gabriella Lester
Hi! My name is Gabriella Lester and I am a senior Human Development and Family Studies major.  I am still undetermined about my future plan, but I wish to counsel high school or college aged students in some capacity.  UConn has a special place in my heart because campus has become a true home away from home where I have made lifelong friends and can pursue many of my passions such as gymnastics and helping others.  This is my third semester working with the Academic Achievement Center.  I worked as a UConn Connects peer mentor beginning in the spring of my sophomore year after being an FYE mentor in the fall.  I fell in love with the program and I am so excited to begin my journey as a Master Coach this spring!
"You can't cross the sea merely by standing and staring at the water." -Rabindranath Tagore

Brittany Chiu
Hi, I'm Brittany! I am a junior majoring in Psychology and Sociology. I plan on getting my PH.D in clinical psychology, in hopes of being a clinical health psychologist working at a hospital. I've been part of UConn Connects since last semester. I was a Peer Mentor and now I am a AAC coach. An important aspect of my journey at UConn is the knowledge (academics, resources, and service) I have gained over the year. What I like about the AAC is that it allows me to share my knowledge to help others, while helping me prepare for my future career. What I've learned through my involvement in the AAC is that everyone is different and though one method may help one person it may not be true with another person. This program really pushes you to step outside your comfort zone and think outside of the box to help others, thus making every day a learning experience.
"You were given this life because you are strong enough to live it."

Emma Eisenberg
Hi my name is Emma Eisenberg.  My major here at UConn is communications and I am minoring in psychology.  I have been a part of the UConn Connects program for almost a year now, starting off as a mentee, then mentor, and now master coach.  After I get my undergraduate degree I hope to go to grad school and continue furthering my education.  As well as being involved in the UConn Connects program, I am also involved in my sorority Delta Gamma that we have here on campus.  My involvement with the UConn Connects program has taught me responsibility and courage.  Both traits that I feel have definitely grown stronger in myself because of UConn Connects.  My favorite part about the AAC is that it is a place you can go for support.  Yes, academic support is the main goal of the AAC but it is definitely not limited to that and is a place I really feel like I can call my home on campus.
Quinn McDermott
For as long as I can remember, I've wanted to help people in any way I could. I fell in love with the idea of becoming a therapist and helping members of the LGBTQ+ community who face difficulties with their relationships and mental illness. To make my dreams a reality, I have chosen to double major in Psychology and Human Development and Family Studies. Going into my senior year at UConn, I wanted to use my knowledge and experiences in a practical way that actually helps others. I decided to start with our UConn community, and therefore I work at the Rainbow Center and am a Master Coach with the Academic Achievement Center. I want to help people of all strengths and backgrounds to succeed in their academic careers and make their UConn experience as enjoyable as possible.
Yazmin Cotterell
Hi, my name is Yazmin Cotterell and I'm from Boston, Massachusetts. I'm a senior psychology major at UConn. I work at the AAC because I enjoy working with people and building relationships with students is a great way to help them reach their goals. After graduation, I would love to work with children as a psychiatric nurse practitioner, helping them cope with mental illness, abuse and behavioral issues. 
Lucila Kaisin
My name is Lucila, but most people call me Lu! I am a Junior at Uconn and I am a Psychology and Spanish double major! I joined Connects as a Peer Mentor and I am thrilled to be a Master Coach this semester! I love to run and travel! I was born in Argentina, and i love visiting as often as I can! I have seen several parts of the world but currently I am preparing for a semester abroad in Barcelona! I look forward to working with Uconn students and doing everything I can to help!

Alicia Vega
Hi my name is Alicia Vega. I am a junior and majoring in Psychology and Human Development and Family Studies. This is my second semester in the  UConn connects program, my first semester I was a peer mentor. I decided to join UConn Connects because I wanted to become more involved on campus and thought this program was a good fit. My first semester I had five mentees and enjoyed meeting with them every week to help them achieve their goals at Uconn. This program has taught me to become more outspoken and more confident in myself while also helping me learn more about what this campus resources have to offer to all students. I can't wait to continue my involvement as a Master Coach!
Brittany O'Meara
Hi, I'm Brittany!  I am a senior majoring in Psychology and minoring in Business Fundamentals. Post-grad, I aspire to work in Human Resources in the greater Boston area. I first came affiliated with UConn Connects last semester as Peer Mentor and now I am a Master Coach. Before this program, I had tunnel vision on campus. I was not well connected and was in a world which only saw UConn for my courses and friends. This program opened my eyes to a whole array of resources and support, which include the amazing people in this program, and I finally found my place on campus. This experience is the reason why I want to go into Human Resources and will probably be the most beneficial part of my UConn career. What I love about this program is that it allows me to be apart of students individualized journey to achieve their goal. I am able to watch students grow and benefit from all the AAC and the Connects Program have to offer and that is an amazing feeling.
Justin Bohner
Hello, I'm Justin, and its my third year here at UConn. I'm an Economics major with a passion for learning science. Besides my work as an AAC Coach, I'm a Hubbel Scholar of the Engineering Lifelong Learning Program. In both positions, I do my best to work with students to create better habits for better learning. 
Claire Duesler
Hi my name is Claire Duesler. I am a senior Psychology major with a HDFS minor. I am looking to be an Americorp Vista next year. After that i want to get my masters in Social Work. I want to be able to help people find their path like i am able to do at the AAC. That's one of the many reasons i love being a part of this program. I get to help my peers one on one and problem solve. The AAC has allowed me to get that experience and pass it on for the rest of my life!

Almeena Shaikh
I am a senior studying Anthropology, and I joined the UConn Connects program my first semester at UConn, the following semester I became a mentor myself. Then the first semester of my sophomore year, I became an AAC Coach at the Academic Achievement Center (AAC). I have been a part of the AAC for a majority of my undergraduate career, and it's one of the best decisions I've made. The atmosphere of the AAC is very welcoming, and encourages succeeding in all aspects of life through processual tutoring with students who walk in, consisting of time management and study skills which I've gained from personally. It's also a great community to be a part of, as the people I have met through the center come from various walks of life, exposing me to different routes of thinking, and also recognizing who I am and what I want out of life myself.
Krystal
My name is Krystal Alston, I am a senior majoring in Speech, Language and Hearing Science. One day, I hope to be a Neonatal Registered Nurse. I became apart of the Academic Achievement Center community when I joined  UCONN Connects as a mentee. Then I took the leap to become a mentor for the program and now I am excited to be an AAC Coach. Being apart of this center has connected me on campus in many ways. Two of the huge things that my involvement in the AAC has taught me was the importance of building relationships and stepping out of my comfort zone.