Meet our Spring 2017 Coaches
Abbie Lester
Hi! My name is Gabriella Lester and I am a junior Human Development and Family Studies major.  I am still undetermined about my future plan, but I wish to counsel high school or college aged students in some capacity.  UConn has a special place in my heart because campus has become a true home away from home where I have made lifelong friends and can pursue many of my passions such as gymnastics and helping others.  This is my third semester working with the Academic Achievement Center.  I worked as a UConn Connects peer mentor beginning in the spring of my sophomore year after being an FYE mentor in the fall.  I fell in love with the program and I am so excited to begin my journey as a Master Coach this spring!
"You can't cross the sea merely by standing and staring at the water." - Rabindranath Tagore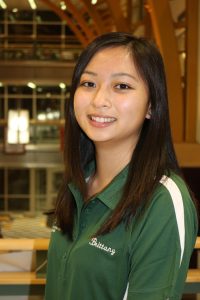 Brittany Chiu
Hi, I'm Brittany! I am a junior majoring in Psychology and Sociology. I plan on getting my PH.D in clinical psychology, in hopes of being a clinical health psychologist working at a hospital. I've been part of UConn Connects since last semester. I was a Peer Mentor and now I am a AAC coach. An important aspect of my journey at UConn is the knowledge (academics, resources, and service) I have gained over the year. What I like about the AAC is that it allows me to share my knowledge to help others, while helping me prepare for my future career. What I've learned through my involvement in the AAC is that everyone is different and though one method may help one person it may not be true with another person. This program really pushes you to step outside your comfort zone and think outside of the box to help others, thus making every day a learning experience.
"You were given this life because you are strong enough to live it."
Nathan Hatfield
Hello, my name is Nathan Hatfield and I am a senior English major. I plan on pursuing my Masters in Education so I can one day teach High School English. My first semester at UConn was very difficult for me. I struggled both academically and emotionally. It is only through the UConn Connects program that I was able to get back on the path to success. I felt it was my duty to give back to the program by helping other students who are in the same position I was. My experience through the UConn Connects program has taught me to always be humble and consider all of the perspectives. I hope to bring this knowledge to the Master Coaching position in order to be the best Coach I can be.
"This world is a but a canvas to our imagination" – Henry David Thoreau
Alex Ramirez
Hi, my name is Alex Ramirez and I am a senior majoring in psychology. This is going to be my second semester in UConn Connects, my first semester in UConn Connects I was a peer mentor. I decided to join UConn connects because I did not have the easiest first year at UConn and I wanted to help other students that might have had a similar experience. I was a transfer student that had trouble finding a friend group and was struggling academically. I did not find UConn Connects till my junior year and I wish everyday that I found it sooner. The more I spent time as a mentor in UConn Connects the more it made me want to stay and help more. After college I would love to be a school counselor and I thought that this would be a great way to start learning how to give a helping hand to students, along with giving some guidance on the way. UConn Connects showed me that school counseling is exactly the right thing for me to go into. The AAC has shown me that there is always a way to help someone whether it is by giving organizational tips or just talking to someone. I am very excited to start as a master coach.
"If you'll not settle for anything less than your best, you will be amazed at what you can accomplish in your life." – Vince Lombardi
Nadia Schwapp
My name is Nadia Schwapp and I am currently a senior here at UConn studying Human Development and Family Studies. I have been apart of the UConn Connects program for one semester and I have loved every moment of it.  This past fall semester I was a mentor and had 5 different mentees and enjoyed helping every single one of them. Being apart of UConn Connects has helped me be a lot more open-minded and listen to what everyone has to say because everyone is different and I never know what they are going through and they handle situations differently.  Being in the program has also given me more patients and has helped me manage my time better to make sure that I have time go get everything done that I need to get done and make sure that I meet important deadlines.  Through my time here at UConn something that I have learned is that do not be so quick to judge someone because you never know what they may be going through, and sometimes just taking the time to talk to them and get know them could help them get through anything that they are going through. I have also learned that if you do  not get what you want the first time you try never give up because hard work and dedication will get you very far.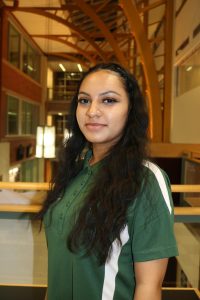 Almeena Shaikh
I'm an Anthropology major with a Psychology minor. I was previously a UConn Connects mentee, and then a mentor myself after being suggested I be a part of it through Monique, who's been a vital person towards my success at UConn. After a difficult time adjusting to college with a lot of personal issues having to do with my family, upbringing, and mindful matters, being involved in the AAC allowed me to  not only help myself in helping me understand myself and overcome obstacles, but also helping others overcome their own as well. I've learned that no matter where you come from, or what trials and tribulations you are facing, everyone has the chance to adapt to their surroundings and change their mindset to ensure their success in whatever they are pursuing. The AAC has a very diverse environment with very mindful and open-minded folks who create a wonderful community that I am proud to be a part of, and associate myself with, and certainly a place anyone can be a part of at UConn. 
Louis Bernard
My name is Louis Bernard, I am a Senior political science major with a history minor.  I've been part of the Uconn Connects program for 2 years now. I started as a Mentee, then I became a mentor and now I am an AAC Coach. My career aspirations vary every day, but I've known for some time that a political career and the presidency is my ultimate goal. It is how do I get there that varies on the daily basis. My journey at Uconn has been anything but simple, I've changed my major three times, I've been on probation and I've been subject to dismissal. My next goal before graduation is to make Dean's list. It is through the AAC that I have discovered leadership, I've been able to work with my mentees and turn their misfortunes around through sound advice. I've also become a better listener, in order to work effectively with others, one has to be a good listener. By being able to listen, I can give sound advice that is tailored to each of their individual needs. What I like about the AAC is how close we work with students. We are there with them every step of the way. The AAC is in no way invasive, and they give students sound advice. Overall the AAC has allowed me to find myself as a student. In such a vast campus, I was able to find my niche and move up the ranks. I am thankful for my journey and the opportunity to further my advancement by helping others.
Emma Eisenberg
Hi my name is Emma Eisenberg.  My major here at UConn is communications and I am minoring in psychology.  I have been a part of the UConn Connects program for almost a year now, starting off as a mentee, then mentor, and now master coach.  After I get my undergraduate degree I hope to go to grad school and continue furthering my education.  As well as being involved in the UConn Connects program, I am also involved in my sorority Delta Gamma that we have here on campus.  My involvement with the UConn Connects program has taught me responsibility and courage.  Both traits that I feel have definitely grown stronger in myself because of UConn Connects.  My favorite part about the AAC is that it is a place you can go for support.  Yes, academic support is the main goal of the AAC but it is definitely not limited to that and is a place I really feel like I can call my home on campus.
Brittney Bernardi
Hi! My name is Brittney Bernardi. I am currently a senior and majoring in Psychology, while also minoring in Women, Gender and Sexualities Studies and Human Development and Family Studies. I first became acquainted with UConn Connects in the second semester of my freshman year, as a participant, due to my academic probationary status. I owe my subsequent academic improvement to both my mentor and UConn Connects. After some time, this experience led me to reconsider my career aspirations, and in the past year, I have decided I wish to go on to become an academic advisor, as I know how difficult college can be, especially when a student feels academically unsuccessful. After coming to this conclusion, I decided to join UConn Connects this past fall semester as a peer mentor, and loved the experience so much, I decided to continue in the spring, this time as an AAC coach. My involvement with the AAC has already been extremely rewarding, as I not only have learned valuable resources and tools that have helped my participants, but also ones that have helped myself. I can't wait to have more rewarding experiences this semester!